The MagnaLatch ALERT Media Release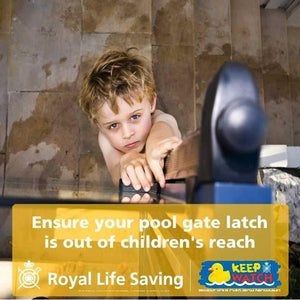 Toddler drownings in backyard swimming pools are on the rise; Australian product designer emerges with safe, modern solution.
The drowning of toddlers in backyard swimming pools in Australia is the major cause of accidental death of children under five years. According to the Royal Life Saving Society of Australia, for the year July 1, 2014 to June 30, 2015 almost 1 in every 10 drowning deaths in Australia was a child aged 0 to 4, with more than half of those drownings occurring in swimming pools, almost three times that of the next most common location. Falls into water accounted for the vast majority of drowning deaths in this age group (81%).

The report also revealed an alarming 30% increase in the drowning fatalities in children under the age of five.

Strong, compliant pool fences are critical, along with strict parental/carer supervision of children around pools. When it comes to pool fencing, the gate is the weakest link in restricting access to pools by small children. Low-quality or poorly maintained gates, latches and hinges can fail, and older children often prop open gates, leaving curious toddlers vulnerable to dangerous water.

Australian company D&D Technologies believes it has come up with the ultimate solution. For more than 25 years D&D has been refining and improving its world-famous MagnaLatch® Child Safety Gate Latch, but in October it announced the world's first and only combined gate latch and electronic alarm – the MagnaLatch® ALERT.

The new latch-alarm device offers a dual alarm system of flashing LED lights (safety you can see) and an audible alarm (safety you can hear). It's the perfect solution for when you can't turn your back for a second.

The ALERT latches are thoughtfully designed so that upon each entry or exit of a gate a single beep is heard. This notifies property or pool owners whenever a child, family, friend, neighbour or even intruder enters or exits a gate.

If the gate is left open, a second beep will be heard after 10 seconds. It's only after 15 seconds of the gate being open and unlatched that the alarm siren begins to ramp up and LED lights begin to flash, providing owners with visual and audible alerts, even from inside the house.

Former Australian Olympic swimming coach and child water safety advocate, Laurie Lawrence, has had a long association with D&D Technologies and its Australian-made products. Says Lawrence: "I was mightily impressed with the first MagnaLatch when it came out over 20 years ago. But to see this new model of MagnaLatch ALERT, with built-in electronic alarms, represents an entirely new level of safety and peace-of-mind for pool owners and carers. This is a major breakthrough for all types of child safety gates."

The best news for householders and pool owners is the ease with which the new latch-alarm system is installed. The electronic alarms are powered by an integrated, replaceable battery, so there's no need for wiring, electricians or special tools. By simply screwing the latch onto the gate/fence the owner gains both a safety gate latch and an alarm system!

Earlier this year the ground-breaking features of the MagnaLatch ALERT were recognised with an Australian 'Good Design Award', now an internationally recognised award for innovative products.

In addition to all the alarm features of the new latch, and like all regular MagnaLatches, the ALERT models feature proven magnetically-triggered latching, key lockable security (rekeyable by a locksmith to match house doors), a visible Locked/Unlocked indicator, and a high degree of horizontal and vertical adjustment to ensure ongoing performance.

D&D Technologies' Marketing Director, Justin Francis, says: "Not only does the MagnaLatch ALERT notify that a gate is not closed and secure, but more importantly it warns that the gate is not properly latched. Until the latching mechanism is engaged, the alarms will flash and sound, even on fences where the gate may appear to be closed and safe. So this product is really an 'unlatched' alarm system, which is unique. We're talking about what must surely be the safest gate latch in the world."

There are two models of the new MagnaLatch ALERT – the tall 'Top Pull' model for swimming pool and other child safety gates, and a shorter 'Vertical Pull' model for front, side, perimeter and pet gates.

All product mounting screws, instructions, alarm battery and an Owner's Manual are supplied standard.

The MagnaLatch® ALERT is available at Bunnings, other good hardware stores, or your local fencing contractor. SRP $195.
Background information
D&D Technologies is fully Australian owned, and all products are Australian made. All of D&D's high-tech gate hardware latches and hinges carry a Lifetime Warranty. The electronic alarm unit of the MagnaLatch ALERT carries a 2-Year Warranty.

Justin Francis: "Traditional gate alarms, which were sold separately to gate latches, were mostly only 'proximity indicators', meaning they would stop working as soon as the gate was sufficiently 'closed'. They did not indicate if the gate was actually latched and secure. Correctly installed, the new ALERTs ensure a very safe gate around the home or pool."

For technical product information contact D&D Technologies (02) 9454 7888, or at sales@ddtech.com.au. Or visit http://www.magnalatchalert.com.au
Further media enquiries
Contact Justin Francis or Phil Doyle at D&D Technologies Pty Ltd. Phone (02) 9454 7800 or 0413 834 105. Or email jfrancis@ddgroup.com.au.
Leave a comment
Comments will be approved before showing up.