30 Years of D&D Technologies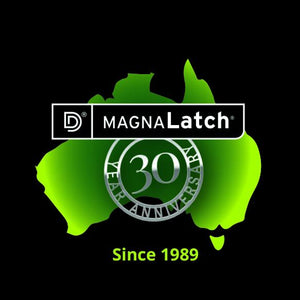 Do you remember what you were doing 30 years ago?
We certainly do! D&D Technologies was formed.
It was at the time when Kylie and Jason, New Kids On The Block and Bros were causing mania for teenagers across Australia. Madonna's 'Like A Prayer' was the number one single on the charts. Bob Hawke was Australia's Prime Minister and Newcastle experienced an earthquake measuring 5.6 on the Richter scale.

In the beginning…
It was 30 years ago that Dave Doyle of D&D Aluminium Balustrading viewed a science program, ABC's Towards 2000, that featured 'rare earth' magnets – powerful new magnets that never lose their magnetic force. From this, he was inspired to create a magnetic gate latch, the MagnaLatch® Child Safety Gate Latch that wouldn't jam, stick or rust, and would always engage.

Soon, other local fencing contractors and fabricators wanted to use it, and D&D Technologies was established, to ultimately become a worldwide market leader in innovative gate latches, locks, hinges and closers.
D&D Technologies now dominates the Australian and New Zealand fencing markets and ships its products to growing export markets in the US, Canada, South America, the UK, France, Spain, Holland and Japan.
30 years of memories
We have so many amazing memories to celebrate – here are just a few:
1990
- the original MagnaLatch
®
'Top Pull' Child Safety Gate Latch and TruClose
®
Polymer Child Safety Gate Hinges were released onto the market, revolutionising child safety around swimming pools, childcare centres, homes and businesses.
1991-92
– MagnaLatch
®
and TruClose
®
win Australian Design Awards from Standards Australia.
1996
- D&D Technologies (USA) Inc is established in Los Angeles, California, marking the beginning of D&D Technologies as a global brand.
2000
- MagnaLatch
®
'Top Pull' for swimming pool gates wins the 'Kidsafe Product of the Year' and MagnaLatch
®
is endorsed by Royal Life Saving Society, Water Safety NZ and Laurie Lawrence's
Kids Alive
Drowning Prevention Program.
2010
– TruClose
®
Vizage
™
receives an Australian Design Mark from Good Design Australia.
2015
– The MagnaLatch
®
ALERT Gate Latch-Alarm is introduced – the world's first safety gate latch with built-in electronic alarms. It is awarded a Good Design Award by Good Design Australia.
2016
– D&D Technologies wins the Australian National Export Award from Master Builders Australia.
2017–2019
- SureClose
®
CONCEALFIT – a world-first all-in-one concealed hydraulic hinge-closer for doors is released.
Thanks for your support
John Clarke, our Technical Director said: "These 30 years are not something that we have accomplished alone – we'd like to give a heartfelt thank you to our clients and business partnerships in the industry and our valued staff."
"We're so proud of the fact our products save children's lives. We're passionate and committed to supporting our communities and providing financial and practical support to child-drowning prevention organisations worldwide."
Justin Francis, our Sales & Marketing Director said: "What makes me especially proud is that almost all our products are designed and manufactured right here in Australia, which is how we ensure they're made to the highest standards and consistency, and why we can offer Lifetime Warranties."
Here's to the next 30 years for D&D Technologies!
Leave a comment
Comments will be approved before showing up.