The Legend Laurie Lawrence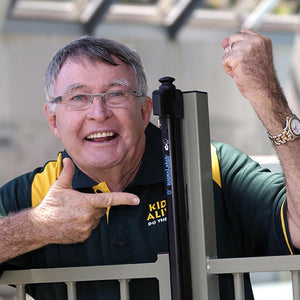 How well do you know Laurie Lawrence?
"Back in the 1980's and 1990's, watching Australian swimmers compete internationally also meant watching Laurie Lawrence."
"He was always there, pacing up and down at the edge or shouting wildly from the stands. At the end of the race he would often be so overwhelmed and emotional, it was like he had more energy and adrenalin than the kids competing in the pool."
This is an apt description of Laurie Lawrence, from his interview with Sarah Kanowski of ABC Local Radio for Conversations.
But, how well do you know Laurie Lawrence?
Do you know that he had part of his left lung removed as a child, because of bronchiectasis?
Or, that his love of swimming came about because he needed to strengthen his right lung, and swimming was a way to do it?
"I had a tube in my back to drain the blood (after my operation) and I had to cough every hour. I remember a huge needle being pressed into my sternum to drain the fluid out," said Laurie.
Perhaps most surprising of all is the fact Laurie was selected for the Wallabies' 1964 rugby union tour of New Zealand.
The early years
As a child, Laurie and his family lived in a small flat above Townsville's Tobruk Pool, courtesy of his father managing the pool.
"Once I got to the pool and started to swim every day I grew, and my breathing became better. Your body acclimatizes and adapts," he said.
The Melbourne Olympics
The Australian Olympic Swimming Team came to train at the Tobruk Pool in 1956, in the lead up to the Melbourne Olympic Games.
"It's a memory burnt into my subconscious. All the great coaches of the time were there - Harry Gallagher, Forbes Carlile, Don Talbot. There were 50 of the Australian Training Camp in Townsville."
"There were no heated pools back in 1956 and Townsville was the ideal place to swim."
The whole of the town became involved and the Olympic team was billeted with families in Townsville.
This represented to Laurie the start of the growth of Australian Swimming.
"We won eight out of the 13 gold medals (for swimming) at the 1956 Melbourne Olympics and won every freestyle event, men's and women's."
Laurie's foray into sports
Laurie played rugby union to receive a scholarship to become a Physical Education teacher, which led to his selection for the 1964 Wallabies' tour of New Zealand.
Becoming a swimming coach
After completing his Diploma in Physical Education, Laurie began his swim-teaching career in the same venue where he had admired the swimming greats.
Coming from a rugby background, Laurie's attitude to swimming was that 'you had to win'.
"It's amazing how hard kids can work if you sell them the dream," Laurie said.
One of his young swimmers was Helen Gray. He spotted her talent, as she was a 'natural'.
"She had an unusual style and looked like a spider going across the water," Laurie said.
"With Helen, I thought she was good enough, even though she was only 13. She beat the great Shane Gould over 400m and 800m."
Helen went on to make the Australian Commonwealth Games Team to Edinburgh in 1972 and win a silver medal in the 800-metres freestyle.
Swimming is a natural teacher
Laurie was one of the Australian Olympic swimming coaches for the Los Angeles Olympic Games in 1984, Seoul in 1988 and Barcelona in 1992.
His best-known protégés were Steve Holland, Tracey Wickham, Jon Sieben and Duncan Armstrong.
Laurie believes that swimming is a great teacher – even if you don't win a medal, you've still learnt time management, focus and teamwork.
Watch The Duncan Armstrong moment
When Duncan Armstrong won a gold medal in 1998, beating three world-record holders at the Korean Olympic Games, it was a big deal for Australia, let alone Laurie.
Duncan Armstrong wasn't a favourite in the freestyle race. He was ranked 46th in the world.
"What do you think we come here for, the silver? Stuff the silver. We come here for the gold!" shouted Laurie when Duncan Armstrong won the gold medal.
Doing what the opposition won't
"His philosophy was old-school and simple: they would outwork and out-prepare the competition. This meant Duncan Armstrong regularly did 20,000 metres a day in the water."
"When Laurie learned that the swimmers would be walking a few kilometres a day between the pool, accommodation and the athlete's village in Seoul, he added six kilometre runs to their training regimen," reported Your Swim Book.
"This is the basis of my coaching philosophy.
1) Learn to swim correctly.
2) Don't leave any stone unturned in your preparation.
3) Preparation is the lather of success," said Laurie.
Duncan Armstrong on Laurie Lawrence
"He just sells it," Duncan Armstrong said of Laurie.
"He sells passion…in swimming, where you have to do hundreds and hundreds and hundreds of laps – passion and enthusiasm are very important."
From training Olympians to teaching kids to swim
"After training Olympic swimmers, drownings became very much front of mind for me when 15 kids under the age of four drowned in Queensland private pools in 1988."
"The Queensland Government wanted to bring in pool fencing legislation and I was contracted to tell people that they had to fence their pools."
"I targeted schools and country towns with local evening TV news. The drowning deaths dropped to one in 1993 and the government said "fantastic". The government then decided to pull the funding over the next three years."
"The drowning statistics then went back up to 15 drowning deaths in 1995 for children aged under four."
"I went back to the federal government and said, look let's try again."
"With the help of McDonald's, the campaign went national and the number of drownings in 0-4 year-olds dropped to four in Queensland in 1998."
Laurie's involvement with D&D Technologies
"The guys from Australian-made MagnaLatch®, D&D Technologies, came to me at the Sydney Olympic Aquatic Centre."
Justin Francis, Sales & Marketing Director at D&D, said to Laurie, "We want to sponsor you and be involved in your KidsAlive water safety program."
"Our products – the MagnaLatch® the world's #1 gate safety latch, and TruClose® pool gate hinges - help prevent toddlers from accessing swimming pools."
"Since 2000, D&D Technologies has been a great sponsor of the KidsAlive program. They do it from a pool safety perspective and are great partners in drowning prevention," Laurie said.
"I have been to their factory in Frenchs Forest (Sydney) to see the research and development and production of their different latch, lock and hinge products. It's amazing. There's not a product in the world that comes even close," Laurie continued.
National Check-Your-Pool-Gate Month
December is National Check-Your-Pool-Gate Month.
"12 Aussie children under the age of four lost their lives because of swimming pool drownings in 2018/19*, with hundreds more involved in non-fatal drowning incidents," said Laurie.
"Kids gaining access to pools because of faulty gates is something that should not be happening. These drownings are preventable. Pool owners need to check their fences, gates, latches and hinges regularly, as a gate that is not self-closing and self-latching provides instant and often undetected access for toddlers to the pool area," Laurie said.
"All it takes is a few minutes to check that your pool fences and gates, including latches and hinges, are in good working order. This simple routine at the start of summer could save the life of a child," Laurie continued.
For further information about the MagnaLatch® and TruClose Hinges® or National Check-Your-Pool-Gate Month, please feel free to call D&D Technologies on (02) 9454 7888 or email.
(With approval from Laurie Lawrence)
*National Drowning Report 2019 by Royal Life Saving Australia.
Leave a comment
Comments will be approved before showing up.