ALERT wins 2015 Good Design Award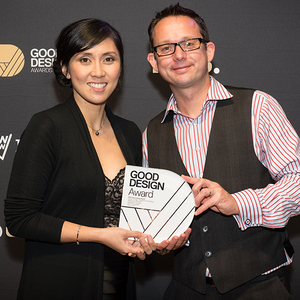 Australian design company D&D Technologies is proud to announce it has won the prestigious 2015 Good Design Award for its revolutionary MagnaLatch® ALERT, a safety gate latch with integrated gate alarm.
The awards, previously known as the Australian Design Awards, are held in high regard by the design, engineering and manufacturing industries internationally. Such awards are judged by a panel of experts who are leaders in their industries. The Awards were announced at a gala dinner of 700 guests on Sydney Harbour in May.
MagnaLatch® ALERT is the world's first and only combined gate latch and electronic alarm system. Previously, home owners were required to buy a gate latch and a separate gate alarm, costing more and often not working together effectively.
The ALERT model represents a significant advancement on the well-established MagnaLatch® child safety gate latch, which has adorned many a pool fence and childcare centre gate for the past 25 years.
"This is the fourth Good-Australian Design Award for D&D Technologies," says D&D's Sales & Marketing Director, Justin Francis. "Our proudly-Australian design and manufacturing company has also won Australian Design Awards for the original MagnaLatch® magnetic gate latch and our TruClose® polymer child safety gate hinges. We've also won two Australian Design Marks for other gate locks and latches. We've saved many a child's life with our quality products and we've sold millions of them worldwide."
Hot on the heels of D&D's new 'Series 3' range of advanced MagnaLatches in 2014 comes this ALERT model. It features dual, built-in alarms to alert home owners, pool owners or carers whenever a gate is opened, left open or, most important, left unlatched.
Justin Francis says: "When you install a MagnaLatch ALERT gate latch you are also installing a gate alarm, all in one convenient and inexpensive unit. Best of all it's simple and easy to install by any handyperson, with no need for electricians, wiring or expensive tools."
MagnaLatch ALERT features a flashing visual alert (LEDs) and audible beep alarm so that users can see at a glance, or hear from a distance, whenever a gate is opened or left unsecured. D&D believes such features are crucially important in areas where parents or carers "can't turn their back for a second".
Upon each entry and exit of a gate, only a single beep is heard – so there are no screaming alarms. This simple sound warns whenever anyone – visitor, friend or intruder – enters or exits a fenced area or property. If the gate is left open, a second beep sounds after 10 seconds. It's only after 15 seconds of a gate being left unsecured that the alarm sequence ramps up to full alarm mode, which stops the moment the gate is latched.
There are two models of the new MagnaLatch® ALERT, the taller 'Top Pull' model for child safety area such as swimming pools and childcare centres, and the shorter Vertical Pull, which is ideal for front and side gates on homes and pet areas.
All MagnaLatches are key-lockable (rekeyable by a locksmith to match other doors) and have a red-dot Locked/Unlocked indicator at key level. The latch carries a Lifetime Warranty, and the alarm module (with replaceable battery) carries a 2-Year Warranty.
For more information on the MagnaLatch® ALERT and other innovative Australian gate hardware products visit D&D Technologies' website at
www.ddtech.com
or call Customer Service on
(02) 9454 7888
.
Leave a comment
Comments will be approved before showing up.